Über uns

ThoMar OHG specialises in the production of and trade in desiccants of all kinds. With around 25 years of experience in this field, we not only have a wide range of standard products for dehumidification available for you. Our product management also develops customised solutions on behalf of our customers, which means that ThoMar can also meet individual requirements for protection against moisture damage.
In addition to supplying industry and wholesalers, we have also been able to hold our own in the area of public procurement procedures for several years. German federal authorities and institutions, as well as foreign government organisations, purchase in particular our SeaDry high-performance desiccants as dehumidifiers for large vehicles and containers, sometimes on the basis of longer-term framework agreements.
We want to convince you with speed, flexibility and, last but not least, the highest product quality, Made in Germany. Continuous process optimisation, both in the development and manufacture of our products and in the organisation itself, are a matter of course here: that is why ThoMar OHG has been ISO 9001 certified since 2012 for the development, manufacture and sale of desiccant bags and dehumidifiers. Whether large or small businesses, new or existing customers: Your satisfaction is always our top priority!
Our experience is your insurance
ThoMar was founded in 1999 by the brothers Thomas and Martin Möller. The company name is derived from the first syllables of their first names. The brothers were born in Lütau and the production facility is also located on their own land. Thomas Möller has been working with desiccants since 1993 and set up the first production facility in Lütau as early as 1995. In 1999, together with his brother Martin, he decided to found ThoMar OHG. Since then, ThoMar has grown steadily and made a name for itself in the industry. In 2013, Daniel Schuback, also from Lütau, joined the company as a managing director. The entire ThoMar team now consists of more than 30 highly motivated employees who have an enormous amount of expertise in a wide variety of areas.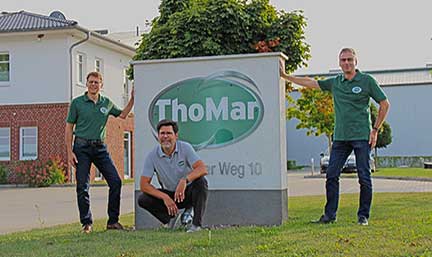 The current management board of ThoMar OHG (left to right):
Thomas Möller, Daniel Schuback and Martin Möller
---
Continuous growth
The first products were the Master Dry and Multi Dry dehumidifiers in various versions. This was followed by the entry into the distribution of industrial desiccants (silica gel bags and desiccants according to DIN 55473) in 2006 and the start of pharmaceutical production with a form fill and seal machine and connected coil winder in 2012. Thus, our range expanded to more than 100 different individual items for air dehumidification, which were divided into three groups:
Business Products: Standardised industrial desiccants
Business Solutions: Individual desiccant productions,
e.g. for the pharmaceutical industry
Consumer Products: Dehumidifiers for private use
Until 2007, the desiccant bags were sewn and filled by hand. Subsequently, a modern machine park was created, which is still growing continuously today. Due to the increasing degree of automation, we can meet your as well as our own demands for quality, speed and flexibility.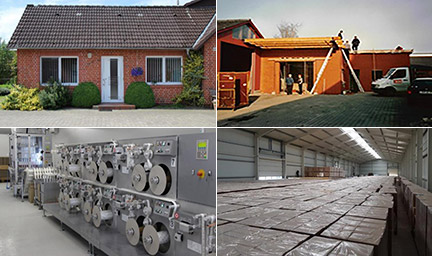 As the number of products grew, so did our space requirements.
---
Solutions for you
You as a customer are the focus at ThoMar, and that is why we concentrate entirely on the customer's point of view or on the point of view of the users of our products. What do YOU need desiccants for? This is the most important question our sales and product managers ask a new prospective customer. So we have now structured the ThoMar business units and differentiate according to where and how our customers use the desiccants individually:
Container & Transport
Packing & Storage
Factory & Lab
Pharma & Food
Mobile & Home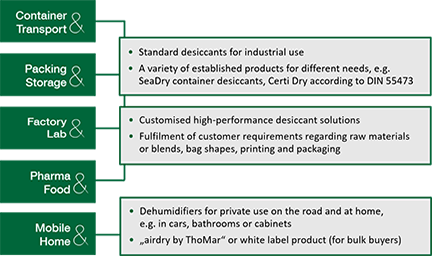 Overview of the ThoMar business units
Headquarters
ThoMar has its company and production headquarters in Lütau. The community is conveniently located east of Hamburg in the charming district of Herzogtum Lauenburg and was crossed by a trade route steeped in history: In the 13th century, the salt trade flourished here. Salt was transported from Lüneburg to the Hanseatic city of Lübeck for transhipment in the port of Lübeck. Many ThoMar desiccant products also contain salt: the highly hygroscopic calcium chloride, which attracts and absorbs moisture from the ambient air.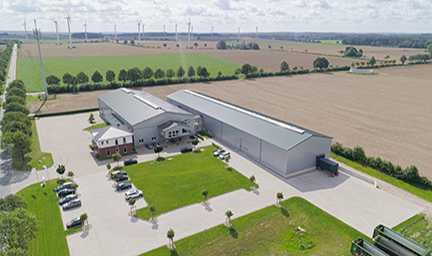 Office building and production halls 2019
---
Sustainability
We have deep roots in our local community. All our efforts are geared towards creating and maintaining a company that will be an integral part of the region in the long term and for generations to come. This applies to our employees as well as to our environment. Conscious use of natural resources and responsible handling of raw materials and waste are deeply rooted in us. We use solar energy for our production, waste heat for heating and pay attention to resource-saving use of packaging material when packing the goods. ThoMar supports various social projects, e.g. regularly involves the Vorwerker Diakonie in the production process and donates to "Aktion Mensch".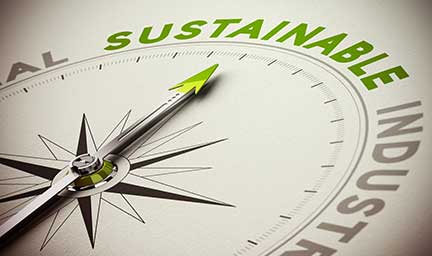 We focus on a sustainable corporate governance.
---
The ThoMar promise
This is what we stand for:
Customer-oriented solutions
Highest quality standards
Expert knowledge for over 20 years
Competent and friendly advice
Fast deliveries at any time!
Our corporate values and goals are set out in the ThoMar code of conduct. It describes the aspired corporate culture and is lived by each individual employee.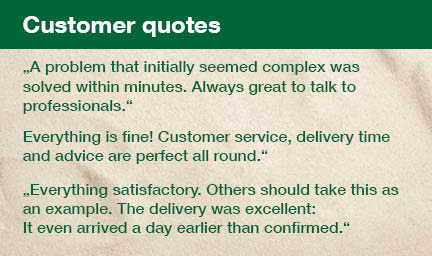 Quotes from our customers
We supply every industry and company size
A small selection of satisfied customers: