Which DIN 55473 desiccant variants are available?
DIN 55473 desiccant bags by ThoMar are available in two different versions - with low-dust (Type A) and dust-proof (Type B) bag material. Low-dust and dust-proof materials differ in their density and in the amount of dust that can penetrate through this material.
CertiDry Type A desiccant bags according to DIN 55473 are available in the following desiccant units (DU / bag sizes):
4 DU, 8 DU, 16 DU, and 32 DU
CertiDry Type B desiccant bags according to DIN 55473 are available in the following desiccant units (DU / bag sizes):
1/6 DU, 1/3 DU, 1/2 DU, 1 DU, 2 DU, 4 DU, 8 DU, 16 DU, and 32 DU
Where and when to use DIN 55473 desiccants
Desiccants according to the industrial standard DIN 55473 are used especially in the export sector, e.g. by specialized export packing companies. The desiccant bags are placed or hung directly into the packaging of the goods to be transported or stored. It should be noted here that the packaged goods and the desiccant must be sealed from the external climate with the aid of a barrier layer cover (inbox desiccant).
DIN 55473 desiccant bags are particularly suitable for protecting sensitive goods from moisture during prolonged storage and transport. When used correctly, they prevent mould growth, corrosion and other moisture damage. They are well suited to protect electronic equipment, machine parts, leather goods, chemical products and pharmaceutical preparations from excessive humidity inside the shipping packaging.
Mode of action of dry clay as desiccant
Desiccant bags, which comply with DIN 55473, contain a drying clay which, due to its composition, is able to adsorb and store water vapour from the air quickly and for a long time. These desiccant bags are based on desiccant units (DU). A desiccant unit is the quantity of desiccant that adsorbs at least 6.0 g of water vapour in equilibrium with air at 23 °C (± 2 °C) and 40 % relative humidity.
Since dry clay is a natural product, the exact composition, the amount contained and the weight of the bags can vary. However, these desiccants, which meet the industrial requirements of DIN 55473 and the technical conditions of the American military standard MIL-D-3464E, have the advantage that they are almost identical in quality and size regardless of the manufacturer.
What is the difference between low-dust and dust-proof bag material?
In CertiDry Type A desiccant bags according to DIN 55473, the wrapping material consists of a textile fabric of individual fibers with a high water vapour permeability through which, according to DIN 55473, no more than 10 mg of dust may escape per unit of desiccant. The wrapping material is designated as low-dust.
The bag material of CertiDry Type B desiccant bags consists of a highly tear-resistant, water vapour permeable non-woven material. According to DIN 55473, a maximum of 1 mg of dust may escape through the material, irrespective of the number of desiccant units. The wrapping material, e.g. Tyvek®, is described as dust-proof. The membrane of the envelope is so dense that virtually nothing can escape. Composed of continuous fibres, Tyvek® satisfies the criteria for this kind of material. Because the fabric has no fibre ends, the material is exposed to lower abrasion and hence produces less dust. It is also considered extremely tear-resistant, moisture-resistant and tight. These characteristics ensure that the desiccant pouch can adsorb moisture for longer.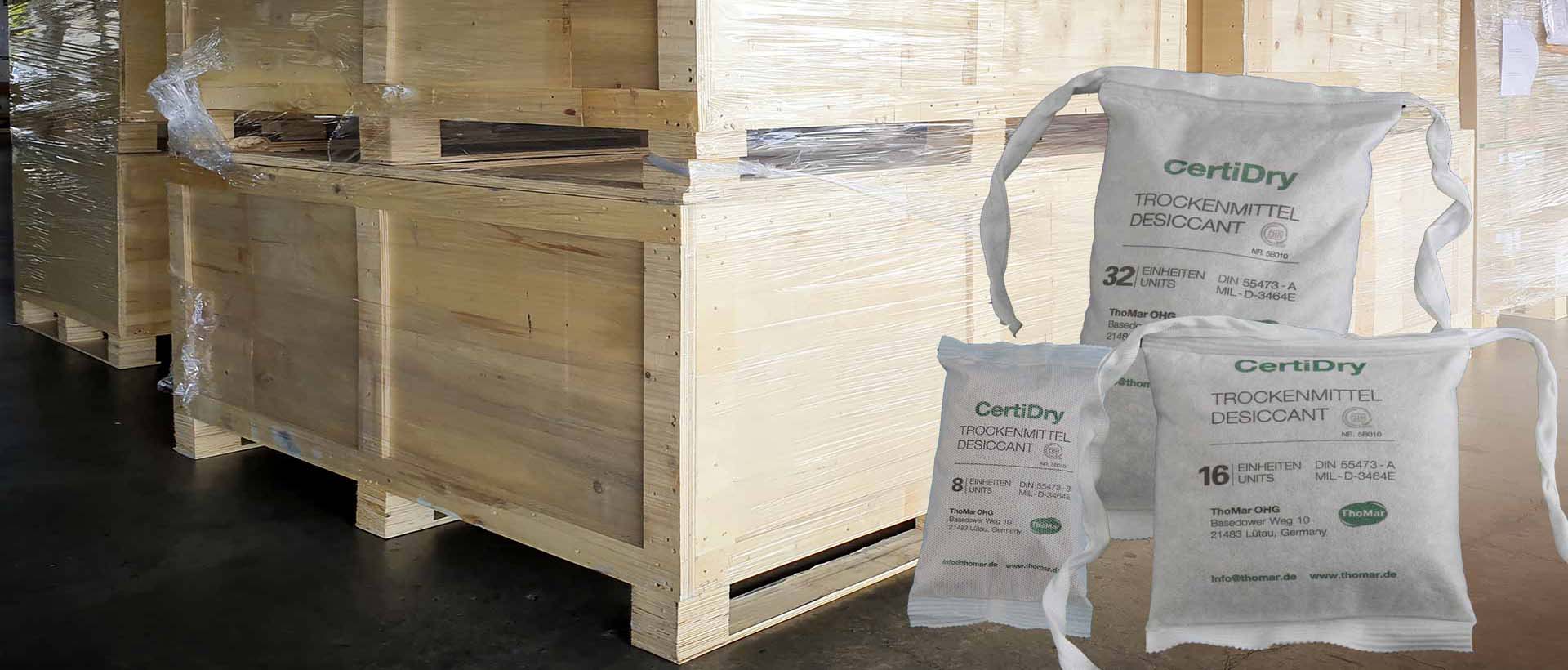 DIN 55473 desiccant packets, B2B, sale from 1 carton

Certified to DIN 55473, also meets the requirements of MIL-D-3464E
Wrapping material low-dust (Type A) or dust-proof (Type B)
desiccant bag contains dry clay as desiccant
Protects your goods from corrosion, mould and other moisture damage during transport and storage
Various desiccant units / bag sizes available

Learn More

Pieces per carton: 30

Price per piece: €1.35