What types of silica gel packets are available?
Desi Dry silica gel packets by ThoMar are available in the following standard versions (tested industrial quality):
Low-dust bag material: 0.5g, 1g, 2g, 5g, 10g, 30g, 60g, 100g, and 250g
Dust-proof bag material: 0.5g, 1g, 2g, 5g, 10g, 30g, and 60g
Orange (silica gel with optical saturation indicator): 1g, 5g, and 10g
Foodgrade silica gel packets
We also keep bag variants with dust-proof pouch material available in stock which have been tested in accordance with food law. There are no concerns regarding the use of the investigated product in direct contact with foodstuffs according to the European Framework-Regulation (EC) No 1935/2004, the European Plastics-Regulation (EU) No. 10/2011 and §§ 30 and 31 of the German Food and Feed law. The desiccant packets are suitable for moisture protection of e.g. cereal products, sugar and sugar products in solid form, nuts, milk powder, spices and many more.
FDA certification
Do you need silica gel packets that are additionally registered with the Food & Drug Administration (FDA) and approved according to FDA for contact with food or pharmaceutical products? Call us at 04153 / 55900-0 or send an email to info@thomar.de. We would gladly accomodate your wishes and needs regarding the desiccant product that is right for you.
Where and when to use silica gel packets
The small bags filled with silica gel are the ideal companion for sensitive goods, as they can be added directly to the product packaging. Silica packets protect your goods, from electrical appliances to leather goods, textiles and packaged food, from moisture damage during transport and storage. Since silica gel packets absorb moisture from the air inside the packaging, no condensation water can form inside if used correctly. Mould growth, corrosion, softened cardboard packaging as well as changes in smell and taste are thus prevented.
How does silica gel work as a desiccant?
The silica gel contained in the packets is spherical and has narrow pores. 98% of the glassy beads consist of silicon dioxide. Due to its large inner surface, this silica gel is well suited to adsorb a large amount of moisture. Silica gel is hygroscopic, which means that it can adsorb water molecules. The water remains chemically unchanged and easily dissolves again when the silica gel is regenerated, i.e. dried. Silica gel packets can absorb about one third of their own weight in moisture.
What is a low-dust / dust-proof bag material?
The bag material of Desi Dry low-dust silica gel packets is a composite of paper and non-woven fabric. It is described as low-dust because few dust particles are created by abrasion of the beads, which could then pass through the outer material. In addition, the PE coating between the fleece and the paper ensures stable welding seams.
The bag material of Desi Dry dust-proof silica gel packets is made of a so-called HDPE nonwoven (high-density polyethylene). This non-woven fabric is permeable to water vapor and extremely tear-resistant. The missing fibre ends in the material cause less abrasion, which is why less dust is produced. Thus, it is virtually dust-proof. Tyvek® retains its properties in both wet and dry conditions and is resistant to most acids, bases and salts.
Special feature of Desi Dry Orange silica packets
Desi Dry Orange consists to 90 % of white silica gel and to 10 % of orange silica gel. The orange beads turn green when the water content rises above approx. 6 %. As the desiccant saturation increases, the green colour becomes more intense up to complete saturation. A bluish-green shade indicates complete saturation. The special transparent and tear-proof non-woven bag material allows visual monitoring of the desiccant saturation level. Weighing to check saturation level is therefore unnecessary.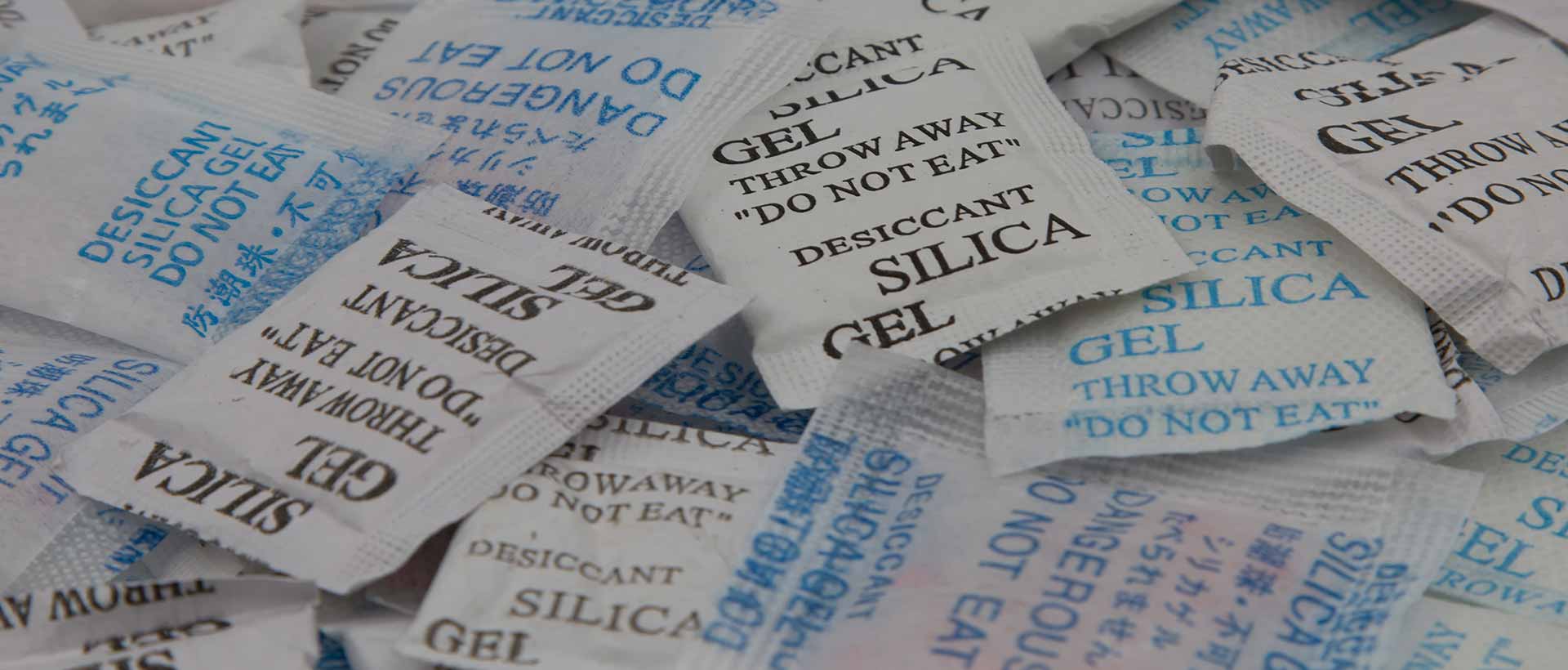 Desi Dry Silica Gel Packets

Classic desiccant for small product packagings
Protects against moisture during transport and storage of electrical appliances, leather goods, textiles, etc.
Low-dust or dust-proof bag material; various bag sizes available
Safely packed in airtight foil bags

Learn More

Pieces per carton: 50

Price per piece: €1.663

Desi Dry Orange Silica Gel Packets

Desiccant Orange Gel for small product packagings
With saturation indicator (turns from orange to green as saturation increases); silica gel packet consists of special transparent fleece for visual control of saturation degree
Protects against moisture during transport and storage of electrical appliances, leather goods, textiles, etc.
Available bag sizes: 1g, 5g, 10g

Learn More

Pieces per carton: 900

Price per piece: €0.113