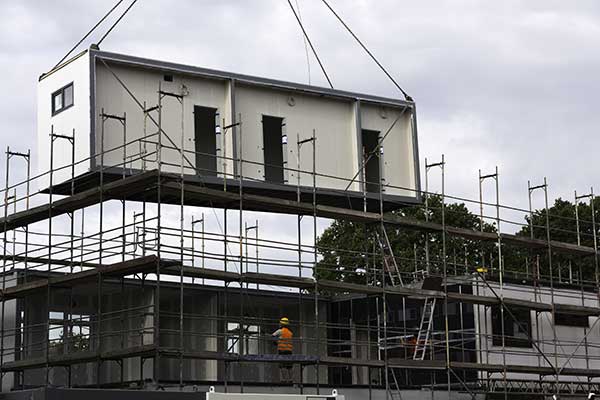 Moisture protection in modular construction
A producer of modular prefabricated bathrooms turned to ThoMar to explore ways to prevent moisture damage. The bathrooms, made of concrete, are completely equipped in the factory with tiles, sanitary fittings and all pipe connections for later installation. Interim storage in the factory before delivery and/or before installation of the modules, e.g. in retirement homes, on the construction site can take several weeks or even months, depending on the project. In the past, this had led to mould stains or even mould growth in the bathrooms.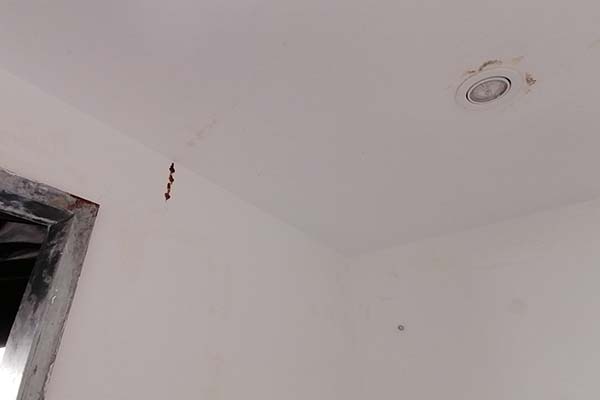 Picture: Moisture damage to the wall and ceiling of the concrete modules
After several discussions and a precise analysis of the situation, ThoMar OHG offered to carry out a trial together with the customer with a total of five prefabricated baths to be equipped with desiccants. In this application, the challenge lay on the one hand in the product properties of the concrete (moisture content and release over time), and on the other hand in the temperature fluctuations (always favour condensation in an enclosed space), which in turn influenced the moisture release of the concrete during storage. Due to the demanding conditions, the choice fell on the high-performance desiccant SeaDry in the Blanket variant. This was originally developed specifically for weeks of use in container transport at sea and can absorb correspondingly large amounts of moisture.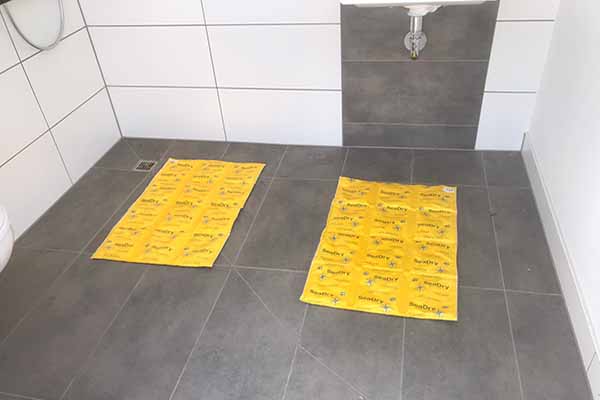 Image: SeaDry container desiccants are placed in the modules.
The evaluation after the two-month test period (September to November) showed a temperature range from minus 7 to plus 38 degrees Celsius. The three SeaDry Blankets used per bath absorbed a total of about 9 litres of water on average.
Please note:
The use of SeaDry products is only suitable for reducing humidity in a closed environment and is not intended to absorb water that enters the room to be protected from outside in an uncontrolled manner, e.g. in the form of rainwater. The room must be sealed as thoroughly as possible and the degree of saturation of the desiccants must be monitored. Without these measures, optimal effectiveness of the desiccants and thus the achievement of a non-critical relative humidity cannot be guaranteed.
The duration of effectiveness of SeaDry is shortened in times of strong temperature fluctuations in conjunction with a humid climate (earlier saturation - replacement necessary). The intervals for testing and replacing the desiccants can be found in the following table.
| | | |
| --- | --- | --- |
| Season | Inspection interval | Replacement intervall |
| Spring | 4-6 weeks | after 8 weeks at the latest |
| Summer | 6-8 weeks | after 9 weeks at the latest |
| Autumn | 4-5 weeks | after 6 weeks at the latest |
| Winter | 3-4 weeks | after 5 weeks at the latest |
Table: Recommendation especially for storage of concrete modules in Central European climate