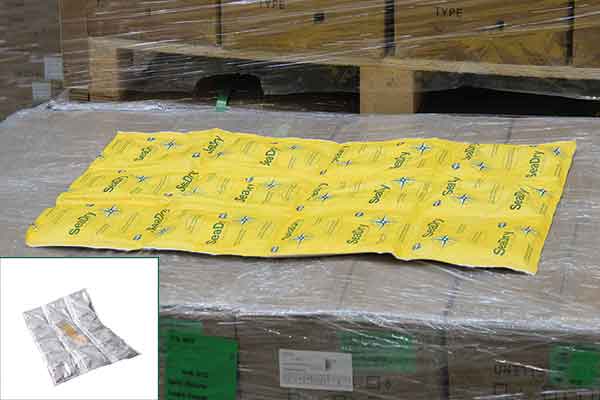 Container desiccant SeaDry Blanket even more user-friendly
The desiccant blanket SeaDry Blanket is the gold standard when it comes to particularly large quantities of moisture to be absorbed in containers with cargo packed right up to the walls. With the further improved version we present to you today, you can secure your logistics projects against moisture in an even more user-friendly way.
Instead of several adhesive dots, there is now a single wide anti-slip strip on the underside of the desiccant blanket. Its covering foil can be easily removed even with work gloves, so that the desiccant can be quickly and easily placed on the goods and remains there safely for the entire duration of transport or storage.
The excess moisture is absorbed, thus condensation, mould and corrosion don't stand a chance!
Find an application video here:
Rely on ThoMar for load securing. We will continue to supply you with the quality you've come to expect - Made in Germany:
High-performance desiccant on salt-starch basis: absorption capacity min. 200 %
Moisture from the air is quickly and safely converted to gel - higher safety compared to drip systems
Confirmed effectiveness not only at higher temperatures or tropical conditions, but also down to -40° C
If you have any questions about SeaDry Blanket or your specific application, please do not hesitate to contact us. Together we will keep your cargo dry.