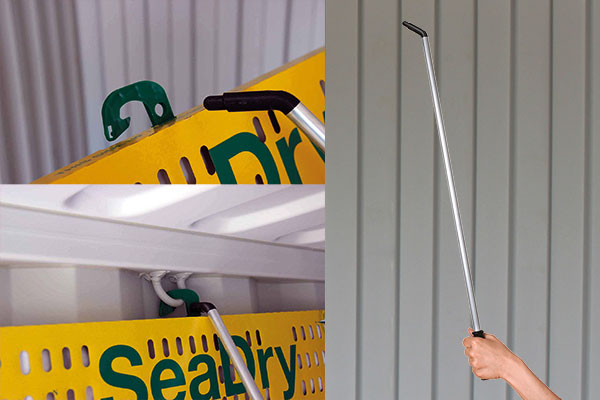 Container desiccant SeaDry Pole H: Now even easier to apply
Our SeaDry Pole H 1200 g is the gold standard when it comes to effective moisture protection in highly stowed containers. Today, we are pleased to present you with a further improved version, which allows you to secure your logistics projects against moisture in an even more user-friendly way.
The robust hook has been adapted in such a way that, with the help of our product novelty SeaDry Helping Hand, even less tall people can quickly and easily attach the desiccant to the lashing eyes in standard and high-cube containers without the need for a climbing aid. This saves time and money.
The "helping hand" has a tapered tip that fits exactly into the hole provided for it in the hook of the SeaDry Pole H. With its low own weight, the tool is particularly handy and easy to use. At the same time, it is so sturdy that even the saturated and therefore much heavier desiccants can be safely removed from the lashing eyes.
SeaDry Helping Hand is reusable and should not be missing in any container stowage equipment.
You can find an application video here:
By suspending the SeaDry Pole H above the goods - directly under the container ceiling - trouble-free loading and unloading is guaranteed. The humid air rises upwards so that the desiccant can optimally absorb the excess moisture. Condensation, mould and corrosion don't stand a chance!
Of course, with the optimised SeaDry Pole H you can also rely not only on permanent availability and short delivery times. ThoMar will continue to supply you with the quality you have come to expect - Made in Germany:
High-performance desiccant based on salt and starch: absorption capacity min. 200% - 1 SeaDry Pole H 1200g absorbs more than 2.4 litres of water
Moisture from the air is converted to gel quickly and safely - Higher safety compared to dripping systems
Confirmed effectiveness not only at higher temperatures or tropical conditions, but also down to -40° C
If you have any questions about the SeaDry Pole H, the Helping Hand or your specific application, please do not hesitate to contact us. You can rely on our performance and that of our products. Together we keep your goods dry.