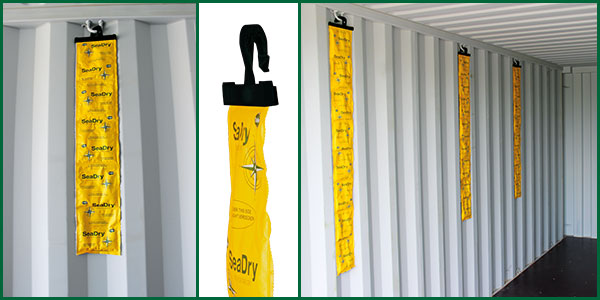 SeaDry Hook desiccant easy to use in freight containers
The SeaDry Hook desiccant is always used when the cargo in the container is not packed all the way to the walls. As with the SeaDry Blanket and Pole H variants, we have optimised the design of the SeaDry Hook so that the product is even easier to handle.
The robust hook has been adapted so that it can be easily hung into the lashing eye without exerting pressure. The special shape ensures that the desiccant chain remains securely suspended in the container corrugation. With its flat product design and the additional adhesive on the back, SeaDry Hook is particularly space-saving to attach in the container. Excess moisture is absorbed and condensation, mould and corrosion do not stand a chance!
New: Helping Hand
Even smaller people can now mount SeaDry Hook to the lashing eyes without climbing aid, also in high-cube containers.
Our new product SeaDry Helping Hand has a tapered tip that fits exactly into the hole provided in the SeaDry Hook. With its low own weight, the aid is particularly handy and easy to use. At the same time, it is designed so sturdily that even saturated and therefore much heavier desiccants can be safely removed from the lashing eyes. The SeaDry Helping Hand is reusable and should not be missing from any container stowage equipment.
See here how well SeaDry Hook and Helping Hand can be used together:
If you have any questions about SeaDry Hook, the Helping Hand or your specific application, please do not hesitate to contact us.