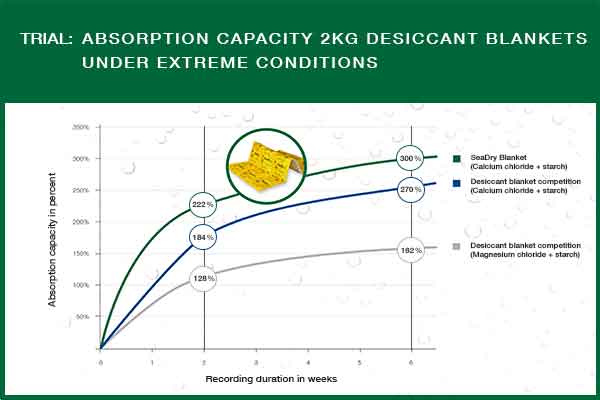 SeaDry Blanket beats competing products in extreme test
SeaDry from ThoMar is one of the most efficient container desiccants currently available on the market. This is confirmed not only by feedback from users who often transport or store goods worth tens of thousands of euros in a single container - reliably protected from moisture by our products. To ensure that our customers can always rely on the high-performance effect of SeaDry, the product variants are regularly put through their paces.
This time the following products were tested:
SeaDry Blanket (contains calcium chloride / CaCl2 and starch) in a 2kg version
2 kg desiccant blanket by competition (contains calcium chloride / CaCl2 and starch)
2 kg desiccant blanket by competition (contains magnesium chloride / MgCl2 and starch)
The three desiccant blankets were stored for six weeks at 37°C and 90% relative humidity in a climate chamber. Their positioning (top, middle and bottom rail) was changed regularly so that the same extreme conditions applied to all test candidates. In order to obtain the most meaningful data possible, there were 33 measurements within the test period (weighing of the products to calculate the current degree of saturation).
The results show that after six weeks, the desiccant blanket from ThoMar is clearly ahead. In particular, it should be emphasised that SeaDry Blanket has a significantly higher absorption capacity than the comparative products in the first two weeks (approx. 38% more percentage weight absorption than the CaCl2-based competitor and a plus of approx. 94% compared to the MgCl2-based competitor). This ensures optimum safety even with shorter transport times. Overall, our SeaDry Blanket absorbed a good 300% of its own weight in moisture. The second CaCl2 product absorbed 270%, and the MgCl2 product absorbed almost 160% of its own weight.
Do you want to know what SeaDry products can do for your individual case of application? Get in touch with us! Together we keep your goods dry.