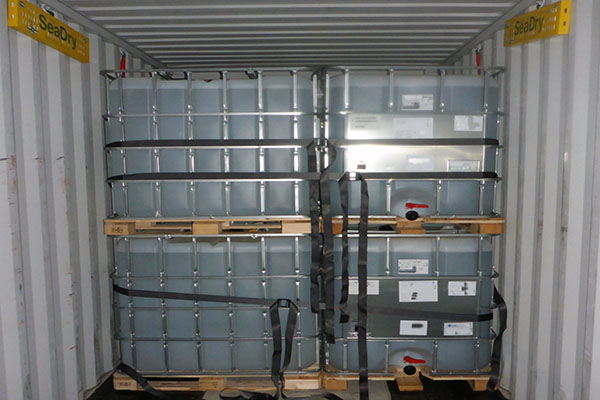 Prevent corrosion on drums and IBC racks during transport
Goods worth almost 1.5 trillion euros were exported by companies in the chemical-pharmaceutical industry from the leading countries in 2021 - including Germany, Belgium, the Netherlands, Switzerland and Ireland*. The goods are transported by water, rail and road, often for weeks at a time and through different climatic zones. One of ThoMar OHG's customers is also active in this area, but complaints arose from the recipient side when corrosion was discovered on drums and IBC racks during a logistics project at the destination.
Even the temperature fluctuations between day and night can be enough for the humidity in enclosed spaces, such as a freight container, to repeatedly exceed a critical level. This leads to condensation, which regularly causes moisture damage to goods and packaging. To prevent moisture damage to your valuable cargo throughout the transfer period, our self-made high-performance desiccant SeaDry is a solution that is as simple as it is safe. In the case described here, the use of the SeaDry Pole H product variant proved to be particularly effective.
Several well-known companies in the chemical industry are already successfully using SeaDry container desiccants in their logistics projects. Various shapes, sizes and fastening options are available (see shop category container desiccants). All products are available in sufficient quantities or can be replenished by us at any time. With our wide range of desiccants, we can also cover other areas and process steps for your needs.
*Statista Research Department, 14.04.2023