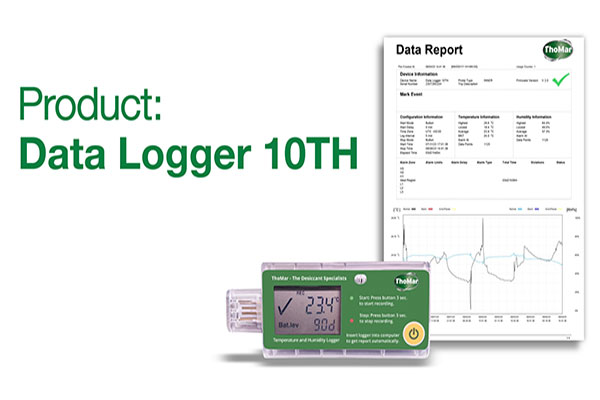 Risk monitoring during transport and storage - preventing moisture damage
Whether during container transport or the long-term storage of goods packed in cardboard boxes, for example - the temperature fluctuations between day and night can already be enough for the humidity to repeatedly exceed a critical level. Mould, rust and detached labels on goods, packaging or packaging materials are therefore regular damage symptoms. In the case of sensitive foodstuffs, even changes in smell or taste can occur.
Get a picture of possible risks in your logistics projects with the help of our new quality assurance tool: the Data Logger 10TH. The Data Logger 10TH records temperature and humidity, e.g. in freight containers or individual packages. When the recording is finished, simply plug the logger into a USB slot on the computer and receive the report directly - quickly and easily. Without additional soft- or hardware, you receive the data evaluation in graph and table form.
If the evaluation shows that important threshold values, e.g. for corrosion or the formation of mould, have been exceeded, ThoMar OHG offers you a solution for air dehumidification that is as simple as it is effective. As a manufacturer and supplier based in Germany, we are always able to provide the right product for your desiccant application quickly and reliably.
If you have any questions, simply contact us - together we will also find a safe solution for your individual application.