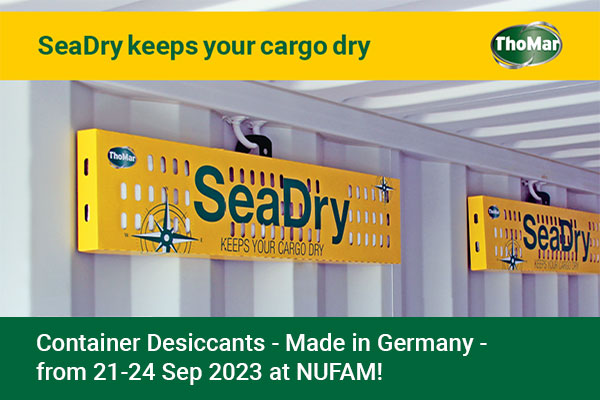 More safety in the container: simply prevent moisture damage
Load securing is not possible without film, lashing straps and dunnage bags. But what about protection against moisture in container transport? After all, the damage caused by condensation amounts to a good 50 billion euros per year. You can find out how to effectively protect your goods over many weeks from mould, rust and detached labels from 21 through 24 Sep 2023 in Karlsruhe.
"Get things moving" is then the motto of the NUFAM commercial vehicle trade fair. Things are certainly moving forward with ThoMar OHG, which offers highly effective solutions to protect goods of all kinds from the most common moisture damage during transport and storage. For almost 25 years, the ISO-certified family business has been developing, producing and distributing desiccants and dehumidifiers for (almost) every application for this purpose.
We are pleased that our partners Christian Rennie, trainer and consultant for transport and traffic, and L.K.W. Schmid, consultant and trainer for load securing, will also be presenting our SeaDry desiccants, which have been specially developed for transport and storage in containers, at NUFAM. You will find the event area for load securing of "Rennie & Schmid Trainings & Beratungen" at the fair circuit / BG 19.